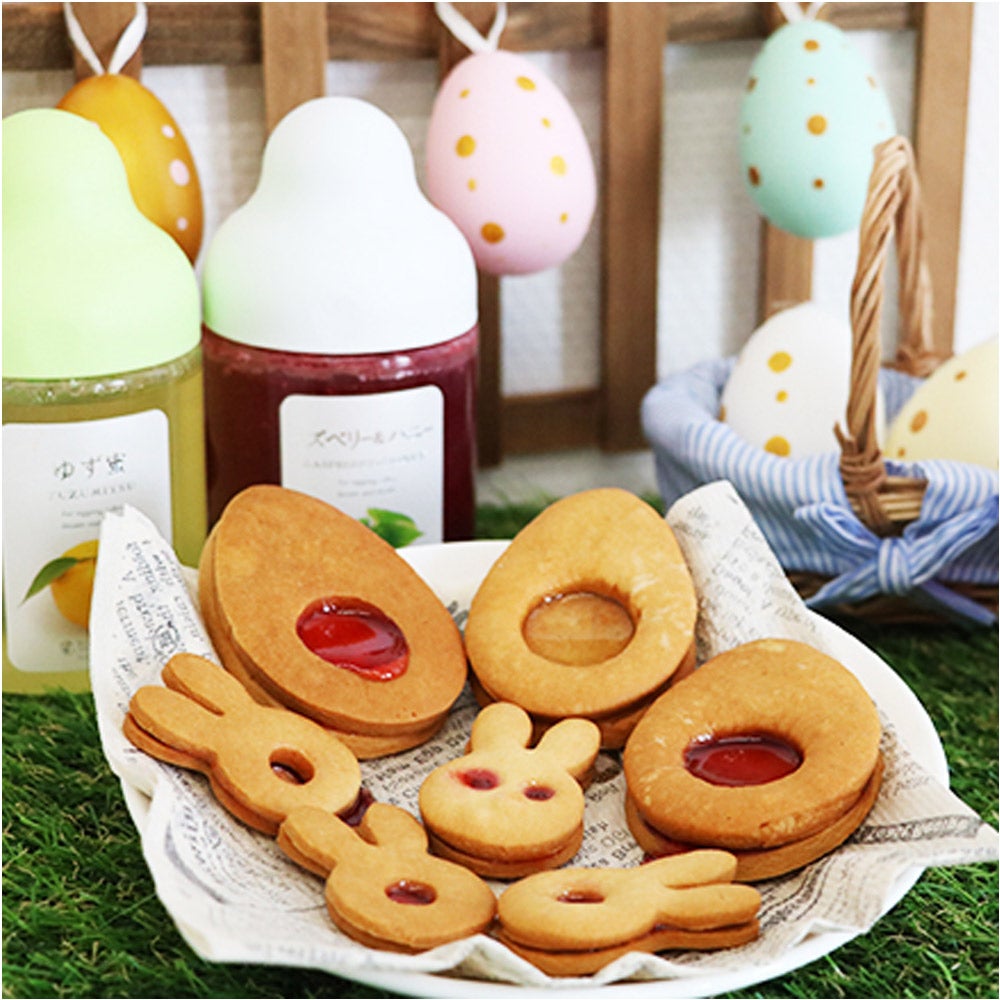 材料(*2-3人份)
低筋麵粉…100g
Soft wheat flour(cake flour)…100g
蜂蜜…60g…訂購按這裡
Honey…60g…Order here
沙律油…30g
Salad oil…30g
喜歡味道的果汁蜜…適量….訂購按這裡
Your favorite Fruit Juice Honey…as appropriate…Order here
製作方法
1. 將低筋麵粉及沙律油倒入塑膠袋中揉捏混合。
加入蜂蜜,再次搓揉直到麵糰均衡。
使用桿麵棍直接壓擠袋子,將其桿成3~5公釐的厚度。
1. Place the flour and salad oil in a plastic bag then mix together by kneading.
Add the honey and knead some more until the dough has a uniform texture.
While still in the plastic bag, roll with a rolling pin to a thickness of 3-5 mm
2.將烤箱預熱170℃,以模型押成喜歡的型狀。
這時將重疊的2片其中的1片,加上果汁蜜型打洞。
2. Preheat oven to 170℃.Pull the dough into the shapes that you want.
At this time, make a hole in one of two cookies that will be stacked together. The hole will be filled with Fruit Juice Honey.
3. 使用烤箱烤約12分鐘。
(請一邊注意不要燒焦一邊調整時間。)
3. Bake in the oven for approximately 12 minutes.
You can adjust the baking time by watching how the cookies are baking so they don't get burnt.
4. 等烤好的餅乾放涼後,將沒有打洞的餅乾薄薄塗上一層果汁蜜,蓋上打洞的曲奇,將果汁蜜夾在中間。
最後在打洞的地方再加上果汁蜜就完成了!
4.After the baked cookies have cooled down, you can lightly spread Fruit Juice Honey on the cookies without holes then place the cookies with holes on top of them to make a Fruit Juice Honey sandwich.
Lastly, add Fruit Juice Honey inside the holes and your sandwich cookies are complete!